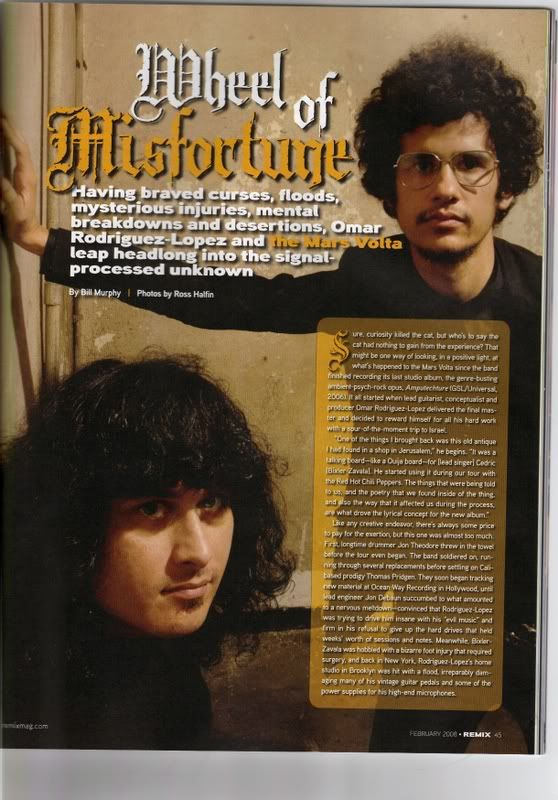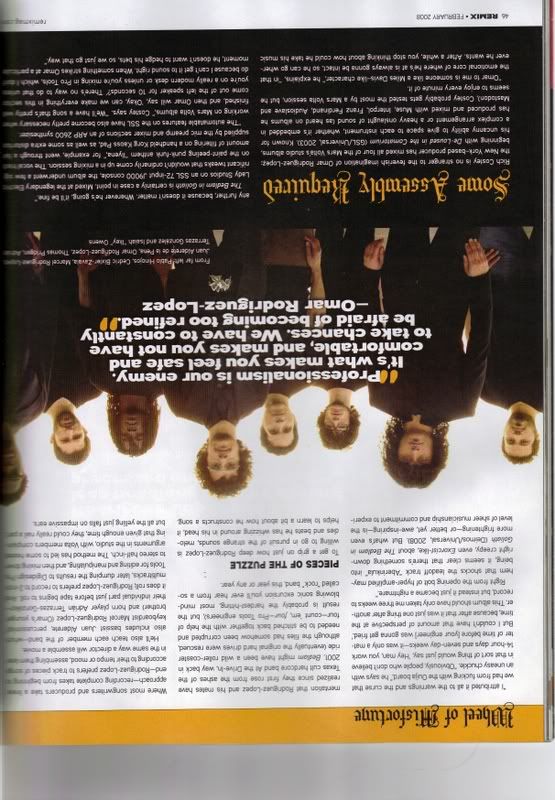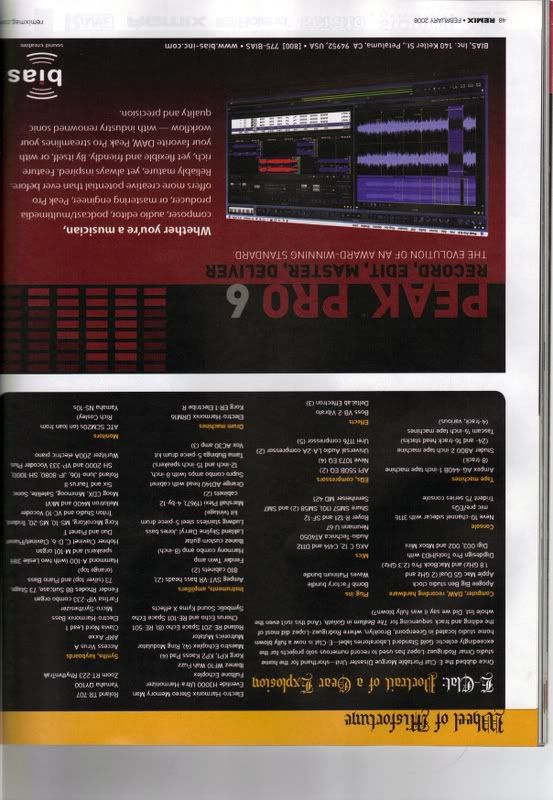 FlipEdit: Heres a link I found that has it all written out and the equipment too
http://remixmag.com/...eel_misfortune/
Wheel of Misfortune
Feb 1, 2008 12:00 PM, By Bill Murphy
Omar Rodriguez-Lopez and the Mars Volta leap headlong into the signal-processed unknown
Sure, curiosity killed the cat, but who's to say the cat had nothing to gain from the experience? That might be one way of looking, in a positive light, at what's happened to the Mars Volta since the band finished recording its last studio album, the genre-busting ambient-psych-rock opus, Amputechture (GSL/Universal, 2006). It all started when lead guitarist, conceptualist and producer Omar Rodriguez-Lopez delivered the final master and decided to reward himself for all his hard work with a spur-of-the-moment trip to Israel.
"One of the things I brought back was this old antique I had found in a shop in Jerusalem," he begins. "It was a talking board — like a Ouija board — for [lead singer] Cedric [Bixler-Zavala]. He started using it during our tour with the Red Hot Chili Peppers. The things that were being told to us, and the poetry that we found inside of the thing, and also the way that it affected us during the process, are what drove the lyrical concept for the new album."
Like any creative endeavor, there's always some price to pay for the exertion, but this one was almost too much. First, longtime drummer Jon Theodore threw in the towel before the tour even began. The band soldiered on, running through several replacements before settling on Cali-based prodigy Thomas Pridgen. They soon began tracking new material at Ocean Way Recording in Hollywood, until lead engineer Jon Debaun succumbed to what amounted to a nervous meltdown — convinced that Rodriguez-Lopez was trying to drive him insane with his "evil music" and firm in his refusal to give up the hard drives that held weeks' worth of sessions and notes. Meanwhile, Bixler-Zavala was hobbled with a bizarre foot injury that required surgery, and back in New York, Rodriguez-Lopez's home studio in Brooklyn was hit with a flood, irreparably damaging many of his vintage guitar pedals and some of the power supplies for his high-end microphones.
"I attributed it all to the warnings and the curse that we had from fucking with the Ouija board," he says with an uneasy chuckle. "Obviously, people who don't believe in that sort of thing would just say, 'Hey man, you work 14-hour days and seven-day weeks — it was only a matter of time before [your engineer] was gonna get fried.' But I couldn't have that amount of perspective at the time, because after that it was just one thing after another. This album should have only taken me three weeks to record, but instead it just became a nightmare."
Right from the opening bolt of hyper-amplified mayhem that shocks the leadoff track "Aberinkula" into being, it seems clear that there's something downright creepy, even Exorcist-like, about The Bedlam in Goliath (Deimos/Universal, 2008). But what's even more frightening — or better yet, awe-inspiring — is the level of sheer musicianship and commitment to experimentation that Rodriguez-Lopez and his mates have realized since they first rose from the ashes of the Texas cult hardcore band At the Drive-In, way back in 2001. Bedlam might have been a wild roller-coaster ride (eventually the original hard drives were rescued, although the files had somehow been corrupted and needed to be stitched back together with the help of four — count 'em, four — Pro Tools engineers), but the result is probably the hardest-hitting, most mind-blowing sonic excursion you'll ever hear from a so-called "rock" band, this year or any year.
PIECES OF THE PUZZLE
To get a grip on just how deep Rodriguez-Lopez is willing to go in pursuit of the strange sounds, melodies and beats he has whizzing around in his head, it helps to learn a bit about how he constructs a song. Where most songwriters and producers take a linear approach — recording complete takes from beginning to end — Rodriguez-Lopez prefers to track pieces of songs according to their tempo or mood, assembling them later in the same way a director will assemble a movie.
He'll also teach each member of the band — which also includes bassist Juan Alderete, percussionist/keyboardist Marcel Rodriguez-Lopez (Omar's younger brother) and horn player Adrián Terrazas-González — their individual part just before tape begins to roll. And it does roll; Rodriguez-Lopez prefers to record to 2-inch multitracks, later dumping the results to Digidesign Pro Tools for editing and manipulating, and then mixing down to stereo half-inch. The method has led to some heated arguments in the studio, with Volta members complaining that given enough time, they could really nail a part, but all the yelling just falls on impassive ears.
"It's a backwards way of recording," Rodriguez-Lopez admits, "but it's also part of the chaos of not knowing what's next. These guys are masterful musicians. They could all be their own bandleaders and have their own band, so what good am I to them if I can't push them to a new area that they couldn't have discovered on their own? And [to that end], one of the very first things I try to do is to make them forget about their professionalism. Professionalism is our enemy. It's what makes you feel safe and comfortable and makes you not have to take chances. We have to constantly be afraid of becoming too refined. If I have to go through some tension in order to get that result, then that's fine because we're all adults here. Now we look back and we laugh about it."
In fact, if there's one rule that the Mars Volta has ever followed in the studio, it's that the rulebook should always be burned. Rodriguez-Lopez doesn't just insist on spontaneity when it comes to a performance; he'll even start freaking effects (such as the Electro-Harmonix Bass Micro-Synthesizer on Alderete's blistering bass line for "Goliath") during a live, one-and-only take, spurred on by the idea of committing fully to a particular sound rather than fixing it later in the mix (although even that phase has its quirks, as mix engineer Rich Costey explains in the sidebar "Some Assembly Required").
QUANTUM ENTANGLEMENTS
As a unit, the Mars Volta has always been open to sonic possibilities, and on Bedlam they take advantage of them at will. Whether it's in the swirling, whirlpool-like frequencies that Rodriguez-Lopez captures on guitar with all manner of delay, flanger and ring modulator (including such arcane devices as an Electro-Harmonix Memory Man, a Maestro Ring Modulator, a Boss VB-2 Vibrato and an Ibanez WF10 Wah Fuzz pedal) or in the metallic sheen of distortion that often drapes Bixler-Zavala's skyscraping lead vocals (check out the pulsating single "Wax Simulacra"), the album offers up a veritable three-ring circus of effects processing.
"I always liked the idea of learning from these little metal boxes that supposedly have no life and no influence," Rodriguez-Lopez says. "There are breaks on 'Wax Simulacra,' for instance, where I'm just sending the guitar signal through a [Thermionic] Culture Vulture and slamming the shit out of it to where it sounds like some kind of mechanical being. That's what I used to love about getting into recording when I was a kid."
Rodriguez-Lopez also used a Doepfer A100 modular synth owned by Red Hot Chili Peppers guitarist John Frusciante (who also guests on Bedlam) for another round of vocal processing and used a Zoom RT-223 RhythmTrak to build drum loops for Thomas Pridgen to absorb into his playing. "It's really all about being bored," he says. "I'm just trying to keep looking for new ways of doing something."
STATUES COME TO LIFE
New ways and new styles are what drive the music on Bedlam, and in tribute to the chaos that surrounded its creation, the song "Soothsayer" — which is the name the band gave to the curse-generating Ouija board — pretty much tells the story. Opening with a Middle Eastern string melody that is punctuated by the call of a muezzin to prayer, the song launches into a long, episodic dream sequence of loping rhythms, Leslie-soaked vocal lines, frenetic free-jazz guitars and waves of noise. It is not only a vivid example of the Mars Volta's ability to go epic at the drop of a hat, but it also offers a glimpse of one of the many areas where Rodriguez-Lopez has become an intrepid explorer — a role he seeks out consistently when he and the band are on the road.
"Obviously records are great because they're what's left in stone," he says. "They're sort of an approximation for the people who don't ever get to see the band live. It's like, 'Well, it's something like this, but not really.' I think when you come see us live, it's the best thing we could ever do. This is the core of a band and the existence of a band. This is us playing live, and that's what really matters. The records, they're just snapshots. They're ego things. They're like, 'This is what we did. We took this picture — look how beautiful it is.' [Laughs.]"
Some Assembly Required
Rich Costey is no stranger to the feverish imagination of Omar Rodriguez-Lopez; the New York-based producer has mixed all four of the Mars Volta's studio albums, beginning with De-Loused in the Comatorium (GSL/Universal, 2003). Known for his uncanny ability to give space to each instrument, whether it's embedded in a complex arrangement or a heavy onslaught of sound (as heard on albums he has produced and mixed with Muse, Interpol, Franz Ferdinand, Audioslave and Mastodon), Costey probably gets tested the most by a Mars Volta session, but he seems to enjoy every minute of it.
"Omar to me is someone like a Miles Davis-like character," he explains, "in that the emotional core of where he's at is always gonna be intact, so he can go wherever he wants. After a while, you stop thinking about how could he take his music any further, because it doesn't matter. Wherever he's going, it'll be fine."
The Bedlam in Goliath is certainly a case in point. Mixed at the legendary Electric Lady Studios on an SSL 72-input J9000 console, the album underwent a few significant tweaks that wouldn't ordinarily come up in a mixing session. The vocal track on the paint-peeling punk-funk anthem "Ilyena," for example, went through a fair amount of filtering on a handheld Korg Kaoss Pad, as well as some extra distortion supplied by the mic preamp and mixer sections of an ARP 2600 synthesizer.
"The automatable features on the SSL have also become pretty necessary when working on Mars Volta albums," Costey says. "We'll have a song that's pretty well finished, and then Omar will say, 'Okay, can we make everything in this section come out of the left speaker for 10 seconds?' There's no way to do that unless you're on a really modern desk or unless you're mixing in Pro Tools, which I don't do because I can't get it to sound right. When something strikes Omar at a particular moment, he doesn't want to hedge his bets, so we just go that way."
E-Clat: Portrait of a Gear Explosion
Computer, DAW, recording hardware
Once dubbed the E-Clat Portable Morgue Disaster Unit — shorthand for the home studio Omar Rodriguez-Lopez has used to record numerous solo projects for the exceedingly eclectic Gold Standard Laboratories label — E-Clat is now a fully blown home studio located in Greenpoint, Brooklyn, where Rodriguez-Lopez did most of the editing and track sequencing for The Bedlam in Goliath. (And this isn't even the whole list. Did we say it was fully blown?)
Apogee Big Ben studio clock
Apple Mac G5 Dual (2 GHz and 1.8 GHz) and MacBook Pro (2.3 GHz)
Digidesign Pro Tools|HD3 with Digi 003, 002 and Mbox Mini
Console
Neve 10-channel sidecar with 3116 mic pre/EQs
Trident 75 series console
Tape machines
Ampex AG-440B 1-inch tape machine (8-track)
Studer A800 2-inch tape machine (24- and 16-track head stacks)
Tascam ½-inch tape machines (4-track, various)
Plug-ins
Bomb Factory bundle
Waves Platinum bundle
Mics
AKG C 12, C414 and D112
Audio-Technica AT4050
Neumann U 67
Royer R-121 and SF-12
Shure SM57 (10), SM58 (2) and SM7
Sennheiser MD 421
EQs, compressors
API 550B EQ (2)
Neve 1073 EQ (4)
Universal Audio LA-2A compressor (2)
Urei 1176 compressor (5)
Effects
Boss VB-2 Vibrato
DeltaLab Effectron (3)
Electro-Harmonix Stereo Memory Man
Eventide H3000 Ultra-Harmonizer
Fulltone Echoplex
Ibanez WF10 Wah Fuzz
Korg KP1, KP2 Kaoss Pad (4)
Maestro Echoplex (4), Ring Modulator
Mutronics Mutator
Roland RE-201 Space Echo (8), RE-501 Chorus Echo and RE-101 Space Echo
Symbolic Sound Kyma X effects
Instruments, amplifiers
Ampeg SVT-VR bass heads (2), 810 cabinets (2)
Fender Twin amp
Harmony combo amp (8-inch)
Ibanez custom guitar
Lakland Skyline Darryl Jones bass
Ludwig stainless steel 5-piece drum kit (vintage)
Marshall Plexi (1967), 4-by-12 cabinets (2)
Orange AD140 head with cabinet
Supro combo amps (with 8-inch, 12-inch and 15-inch speakers)
Tama Bubinga 5-piece drum kit
Vox AC30 amp (3)
Drum machines
Electro-Harmonix DRM16
Korg ER-1 Electribe R
Roland TR-707
Yamaha QY100
Zoom RT-223 RhythmTrak
Synths, keyboards
Access Virus A
ARP Axxe
Clavia Nord Lead 1
Electro-Harmonix Bass Micro-Synthesizer
Farfisa VIP-233 combo organ
Fender Rhodes 88 Suitcase, 73 Stage, 73 (silver top) and Piano Bass (orange top)
Hammond A-100 (with two Leslie 31H speakers) and M-101 organ
Hohner Clavinet C, D-6, Clavinet/Pianet Duo and Pianet T
Korg MicroKorg, MS-10, MS-20, Trident, Triton Studio and VC-10 Vocoder
Mellotron M400 and MkVI
Moog CDX, Minimoog, Satellite, Sonic Six and Taurus II
Roland Juno-106, JP-8080, SH-1000, SH-2000 and VP-333 Vocoder Plus
Wurlitzer 200A electric piano
Monitors
ATC SCM20s (on loan from Rich Costey)
Yamaha NS-10s
Ok and lastly another small tidbit on Ratsound's equipment who are still doing the sound for live Volta.
http://mixonline.com...dio_playing_53/
The Mars Volta
Sound Company: Rat Sound
FOH Engineer/Board: Toby Francis/Digidesign Profile
Monitor Engineer/Board: Daniel Bonneau/DiGiCo D5
P.A./Amps: MicroWedge, dV-Sub, L-Acoustics 108p/Chevin Q6, L-Acoustics LA48
Monitors: Sennheiser ew 300 IEM G2 Outboard Gear: XTA DP448
Mics: Shure SM91, Beta 52, SM57, Beta 98, SM81; AKG 414; Audio-Technica AT4050
Additional Crew: monitor tech Manny Barajas, tour manager Narci Martinez, production manager Amery Smith