EDIT:I uploaded the pics to another server.I hope it works!
Sooo,here it is!!! I know a lot of you have been wondering what Omar and Cedric's tattoos mean.
OMARSUNFLOWER:
It represents personal growth. They symbolize development. This flower is also one of my favorites.
DOLL:
It's not a doll. It represents the childhood in general, innocent, far from malice, that's why it doesn't have a face, cause it's pure. When we grow up, our face distort.
KID ON DONKEY:
I know it looks really fairy (laughs), but symbolizes my childhood in Puerto Rico. Only over there the sun is so shining.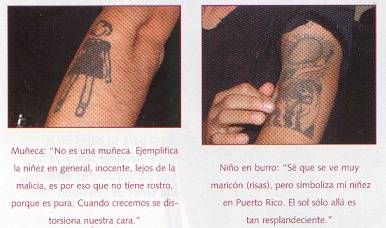 NIGHTMARES:
This tattoo is really important and represents a period of my life. I used to have nightmares very often, I don't know why; I didn't know if it was better to stay awake than sleep. In honor to this fragment of my life I got tattooed this image.
CEDRICELEPHANT:
We're Dali fans. This elephant appears in one of his paintings.
ROBOTS:
I've always liked robots.

EYES:
Omar showed me this symbol. Three eyes that look the past, the present and the future. It's one of my favorites.
JULIO:
This is Julio (Venegas). That's how they found him, dead on the corner of his bedroom. I wanted to capture this moment on my body.
BIRD:
It's the freedom. (Omar tattoo).